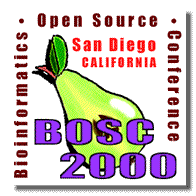 "BOSC?", you ask...
---
Key dates:
| | |
| --- | --- |
| April 15 | Registration opens |
| June 30 | Registration closes |
| June 30 | Abstract deadline |
| August 17 | BOSC starts, 1pm |
| August 18 | BOSC ends, 7pm |
| August 19 | Tutorial day at ISMB |
| August 20 | ISMB conference presentations |
check out the ISMB2000 pages for information on hotels, travel to and from San Diego as well as other relevant information!

The Bioinformatics Open Source Conference (BOSC) is the successor to the successful bioperl-99 conference. Like bioperl-99, BOSC is a satellite conference of ISMB, allowing people who are making the trip to San Diego to extend it for a couple of days and talk real code.
BOSC is designed to be open to all the open source efforts in bioinformatics, including Perl, Java, Python, C and C++ - even Fortran would be fun. We don't expect all attendees to be participating in a particular open source project (like, say, biojava), but we do expect that a lot of the people involved in the open source projects in bioinformatics will attend.
BOSC will be organized around presentations selected from submitted abstracts. Confirmed speakers include:
Tim O'Reilly on Open Source
Lincoln Stein on Genome Annotation
Ewan Birney on Bioperl
---
---

The BOSC organizing committee is:
Ewan Birney (EBI)
Chris Dagdigian (The Genetics Institute)
Nomi Harris (UC Berkeley)
Helge Weissig (UCSD/San Diego Supercomputer Center)